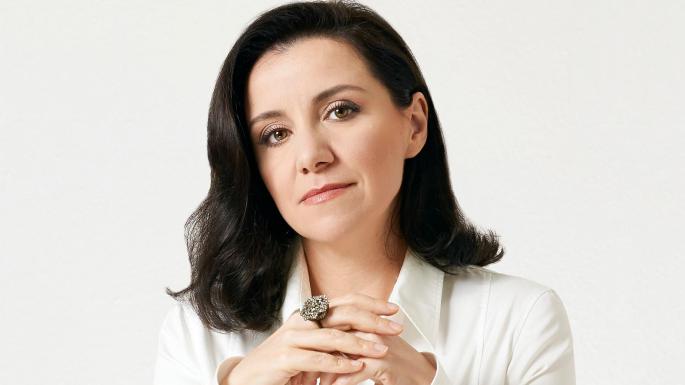 Anna Bonitatibus may not have the household-name appeal of her older contemporary Cecilia Bartoli, but the Italian mezzo from a small hilltop town in the Basilicata region of southern Italy has attracted a cult following among devotees of baroque opera and Rossini.
A little over a year ago, she returned to Wigmore Hall, in London, after an absence of almost 15 years to sing the programme of her International Opera Award-winning album Semiramide: La signora regale (The Regal Lady), a compilation of scenes from operas about the titular Babylonian queen by composers from Porpora to Rossini. This month, she returns to give two recitals devoted to Italian art song: the first on January 25 in collaboration with her friends the soprano Serena Farnocchia and the tenor Paul Nilon; the second two days later, a solo evening comprising more Italian rarities.
Hers has been a gradual, carefully planned rise to the top, her distinctive mezzo-soprano timbre not dissimilar to Bartoli's. But her voice sounded youthful as Monteverdi's Penelope in Hampshire last year, and her technique seems hardly touched by the years.
Her career was long in preparation. "I have a picture of myself at four, singing for a celebration at school, and my sister recently showed me an exercise book from when I was eight, in which I wrote that I wanted to spend my life on the palcoscenico [opera stage]. I could hardly believe I wrote that at eight. I had no memory of it at all."
The piano — and music — "became my life", she says, when she enrolled at the Conservatorio di Potenza. "I wanted to study something else, a choice between percussion and voice, but my maestro di coro told me I should study singing — 'You have a wonderful voice!'"
I first became aware of that voice — a lyric mezzo of rare evenness and beauty throughout the registers — at the time of her British debut as Irene in Handel's Tamerlano at Sadler's Wells in 2001, a performance under Trevor Pinnock that was recorded and released a year later. Soon she was regarded as something of a Handel specialist, recording Ulisse, in Deidamia, and Elisa, in Tolomeo.
Handel may have taken a back seat in her opera repertory in recent years — she has blossomed as Isabella in Rossini's L'Italiana in Algeri, Rosina in his Barber of Seville and the title role of his comic masterpiece Cinderella — but she returns to what should be an ideal role, Agrippina, at the Grange Festival in June.
Her career began with baroque music, a 1992 Radio France premiere recording of Vivaldi's Griselda, released on disc by Naxos. "It's still available — only a small role, but I'm the only one in the cast still singing today," she chuckles. Her early promise was vindicated when she took first prize in the Giacomo Aragall competition, named after the great Spanish tenor. "That win was very dear to me, because the jury was mainly tenors — Franco Corelli was on it — and I sang the Turiddu-Santuzza duet with Aragall and won it with the final rondo from Rossini's La Cenerentola."
Cinderella is one of her favourite roles — sadly, she has never sung it in the UK — but she has reluctantly dropped it from her repertoire as her voice has matured. Even so, she is acclaimed as a Rossini specialist. On her new album, released next month on the BR Klassik (Bavarian Radio) label, she sings Tancredi's great solo "Di tanti palpiti" as part of a potted history of women in male roles. Entitled En travesti, it ranges from Handel's Radamisto, written for the first Agrippina, Margherita Durastanti, via Gluck's Orphée in Berlioz's version for Pauline Viardot and Meyerbeer's courtly page, Urbain, in his St Bartholomew's Day Massacre opera, Les Huguenots, to 20th-century hangovers of the tradition, the madrigal of Puccini's "musico" in Manon Lescaut, Ravel's Enfant (et les sortilèges) and even, rare for an Italian singer, Strauss's Rosenkavalier. The most recent item is Crazy World, from Henry Mancini's cross-dressing musical Victor/Victoria, sung in the film by Julie Andrews.
In this sense, Bonitatibus is a thoroughly modern Italian musician, an excellent linguist who divides her home life between a secluded flat on one of Milan's canals — where we met for the interview — and London, where she lives with her Canadian-born husband, Frank Bonitatibus (no relation, she is a Bonitatibus twice over), an IT consultant and her business partner in the publishing venture Consonarte.
Her interest in musicology informs the discoveries she made during the making of the Semiramide disc; similar thinking is the key to her Wigmore recitals, which include material she and her husband are publishing.
She sees herself as an evangelist for neglected Italian art song. "In Italy, the history of music is dominated by opera, and particularly opera from Verdi to verismo. Earlier music is a kind of 'black hole', though that is changing dramatically today. But composers like Monteverdi are still more frequently played abroad. It's important to offer these neglected 19th- and 20th-century composers — Giuseppe Martucci, for example, who brought Wagner to Italy — in a hall where there is already plenty of Schubert and Schumann."
She is looking forward to returning to Handel, in one of the composer's most fascinating operas. "Agrippina is a perfect example of a matriarchal interpretation of Roman society. It's a challenging character, very funny, very political. But she becomes most interesting in the final act, where we see her thinking aloud about what she has set in motion. She is a figure who reinforces the idea of a 'matria', a Roman woman holding the real power from behind the curtains."
She gives me a very determined look when we say "Arrivederci".
By Hugh Canning
Anna Bonitatibus performs at Wigmore Hall, London W1, Jan 25 and 27; and will sing Agrippina at the Grange Festival, Hampshire, June 8-July 6