Welcome to the web-site of Anna Bonitatibus: news, events, and projects of one of the most acclaimed artists on the international operatic landscape!
The Anti-Diva, as she likes to describe herself, is renowned for the noble passion with which she interprets titles between the most famous of 'teatro musicale', as well as the tireless commitment with which she promotes the divulgation of a rarer repertoire.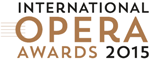 Winner of the International Opera Awards 2015 for Semiramide — La Signora regale: Best Operatic Recital. Nominated for Best Female Voice, International Opera Awards 2016.